Stroll in high-end style with the Aston Martin pram
How do you feel when you see VW rims on Skoda?

22 members have voted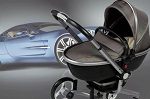 We have seen many luxury automakers that have lent their name to daily usable products. You would have probably seen Lamborghini laptops, Ferrari headphones etc.
And now, Aston Martin is the next automaker to use their name on an everyday item used by many - a baby pram.
The pram is made by British company known as Silver Cross and each pram is said to be priced around 2,000 British Pounds (around SGD$3,700). The pram will be sold exclusively at luxury retailer Harrods.
The pram shares several elements from Aston Martin cars. The aluminium wheels are designed to match the ones from the Aston Martin One-77 supercar. Alcantara is used to trim the seats and premium leather for the handles. The luxurious pram also receives an air suspension which provides for a smooth ride and comfortable pushing.
The pram will be a limited item as only 800 units will be made and each will come with a certificate of authenticity including an engraved plaque finished in brushed chrome.
Looks like some deep-pocketed parents do not have to wait until graduation to give their children a luxurious ride.