Chris Harris from Drive gives us a trip around Geneva
How do you feel when you see VW rims on Skoda?

22 members have voted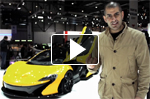 This year's Geneva Motor Show was a dream for many petrolheads, thanks to the presence of a new McLaren and a new Ferrari hypercar, a new Porsche GT3, a new Alfa and a crazy Lamborghini.. thingy..
I'm sure you guys know Chris Harris from the Drive channel, who was fortunate enough to visit the show. Besides his opinion on some of the show cars at Geneva, je gives us a review of the facelifted E 63 AMG.
Oh and did I mention he dislikes the Veneno?