German tuners Hamann ruin the M5
How do you feel when you see VW rims on Skoda?

22 members have voted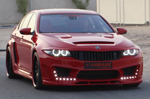 The current F10 5 Series is the successor to the Chris Bangle designed E60 5 series and has been in production since around 2010 or so. Though I still like the aggressive design Chris brought to the 5 series, the F10 5 Series is no ugly duckling either. To me it looks better than the current and refreshed E-Class.
Naturally as with any new car, many tuning companies have given their own creative spin on the F10 5 Series. Most are nice and give a refreshed look, though some tend to get over the top. Well here is one that is somewhat over-the-top.
German tuners Hamann have given their take on the M5, yes THE 'scud missile' M5. The problem is, it looks aggressive from its profile but overall it looks over done, well for me at least.
The front end with the custom double kidney grille and covered headlights gives it a 'Jeep' look while the slim hood scoop reminds me of a Mustang.
The back end looks pretty ok, but the exhaust has a McLaren feel while the diffuser looks like it was lifted from a GT-R.
And I have no idea why this car has a double spoiler at the back.
Not surprising this limited edition model was unveiled at Auto Trader Live luxury car show in Dubai. According to Carscoop this is a limited edition model with only 10 examples to be built at $235,000.