Ford India's new ads for its Figo hatch ends up in controversy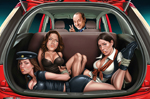 An advertising campaign by Ford India to promote the 'extra-large boot' of its Ford Figo Hatchback has caused a controversy in the country after the advertising material was deemed 'offensive'.
A trio of posters with the tagline, 'Leave your worries behind' have been produced by JWT India - the Indian arm of JWT - one of the largest advertising agencies in the United States and the fourth-largest in the world.
The posters are similar in nature which basically depicts a kidnapping situation of sorts by Former Italian Prime Minister Silvio Berlusconi, Paris Hilton or Michael Schumacher in the driver's seat with three hostages, tied-up and gagged.
The first caricature shows Silvio Berlusconi throwing a peace sign and looks rather pleased with his catch - three well-endowed women in the back seat, all tied up and wearing a ball gag.
The second caricature shows a Paris Hilton-like figure winking from the driver