Restoration work on Ernest Hemingway's last car to be documented
How do you feel when you see VW rims on Skoda?

23 members have voted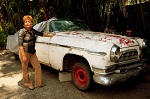 Nobel prize winning author Ernest Hemingway's last car was a 1955 Chrysler New Yorker Convertible. Hemingway left the car on the island of Cuba before his suicide in 1961 and from then onwards, the vehicle has somehow disappeared from public view.
Presumed to be lost, the car was found a couple of years back and now is the subject of an upcoming documentary about the car's history and ongoing restoration process.
The New Yorker Convertible has been passed around between members of one family and there are plans to restore the car to its original condition. But, due to the United States trade embargo on Cuba, plans of restoring the car has come to a dead end. The United States trade embargo imposed on Cuba prohibits the trade of US made products to Cuba.
The documentary follows actor David Soul as he tries to find a way around this embargo and get the car back on the road. David Soul is the actor who played the role of detective Kenneth Hutchinson in the television show Starsky and Hutch during the 1970s.
After taking an interest in the restoration project, Soul's British passport enables him to supply the right car parts for the project and they hope that the car is able to be restored in time for the International Hemingway Colloquium which will be held in Havana in June 2013.
A trailer for the documentary was released in December last year and you can catch it here at Red Earth Studio