Director of Performance
How do you feel when you see VW rims on Skoda?

23 members have voted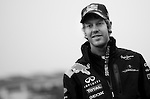 Infiniti has been actively sponsoring the Red Bull Racing team and this year it has made its presence felt more prominently with more prominent placement of the company's logos and a stronger technical partnership with the Austrian-U.K. team.
That partnership benefits Vettel, if he wishes to retire from the sport for he has been announced as the new Director of Performance for the premium Japanese automotive brand.
The announcement was made by Infiniti on the opening day of the New York International Auto Show, and this latest announcement extends and enhances the triple World Champion's relationship with Infiniti which formally began in 2011.
Vettel has played a crucial role in developing Infiniti