Day dreaming is major cause of fatal accidents
Entry posted by SYF77 ·
1,590 views
How do you feel when you see VW rims on Skoda?

22 members have voted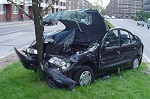 An ordinary Singaporean has a lot of concerns on his mind which could include his child's education, cost of living and job stability. However, it is best to put all these concerns away temporarily while driving.
According to an analysis of the US national crash data, more fatal car crashes are caused by drivers who are 'lost in thought' rather than using a mobile phone. To be exact, 10 percent of the fatal accidents in the US involve at least one driver who is distracted and 62 percent of the distraction had to do with daydreaming and 'lost in thought'. Mobile phone usage constituted 12 percent.
The AAA Foundation for Traffic Safety advised drivers to stay focused on the dangers of the road by playing the 'what if' game and asking themselves how they would react to unexpected events on the road. The foundation said that drivers should treat driving as a complicated task requiring full attention.
Other significant distractions include rubbernecking, having a conversation with the passengers, eating and moving an object.