Real life Iron Man bikes
How do you feel when you see VW rims on Skoda?

22 members have voted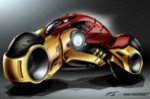 Iron Man is the heroic movie character played by Tony Stark - a selfish and arrogant character who's always proud of himself, yes, quite ironic, indeed - in the Iron Man movie series. However, it seems that Tony Stark isn't the only person dreaming of becoming the Iron Man.
You can see that in the images we come across on the World Wide Web. There's a diverse range of motorbikes that their owners convert such that they look like a ride especially designed for the hero who gained his popularity from the comic series.
What's unique is that while some of the motorbikes are as fierce as the Kawasaki ZX-14R, there're also scooters which aren't likely, if at all, to become a ride for the Iron Man. However, though, it's the right of every single person out there to convert their ride to look as if it belongs to the superhero. So, have a look for yourself.
Oh, by the way, there're also concept designs by Wang Buffon for the superhero's ride if you like.