Ford Escort revived at 2013 Shanghai Motor Show
Entry posted by SYF77 ·
1,167 views
How do you feel when you see VW rims on Skoda?

22 members have voted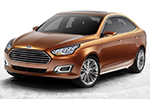 Ford has resuscitated the Escort name plate at the 2013 Shanghai Motor Show with the launch of the Escort concept. The badge was previously used on a variety of small cars in different continents. Designed specifically for the Chinese market, the concept previews a potential low cost alternative to the Focus. To clarify, the Escort isn't designed to replace the Focus in China but would be sold alongside with it.
Design wise, the Escort Concept seems like the result of a one night stand between the Ford Fusion and the Focus. The Blue Oval's signature 'Aston Martin' hexagonal grille and LED headlights dominate the front fascia. The overall design looks quite production ready. Ford hinted that the Escort is longer than the Focus sedan, which means that buyers will get more metal for less money.
"By listening to our customers in China, we have developed the Ford Escort Concept to serve a new class of compact car customers," said Ford's Executive Vice President of Global Marketing, Sales and Service. "These are customers whose needs are not being completely met by existing compact cars. They are discerning, modern families, who want uncompromised functionality, quality and safety for themselves and the ones they care about," he added.
No engine/transmission details on the new Escort are available at the moment.