Mercedes to launch 2014 S-Class Coupe soon?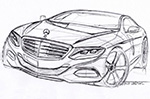 15th May 2013 was the world premiere of the 2014 Mercedes-Benz S-Class. Mercedes unveiled its new luxury sedan at the Airbus A380 Delivery Centre located in Hamburg, Germany. However, what attracts me besides the debut of the luxury German sedan itself is the odds that the German automaker is set to launch the coupe version soon.
On its official Facebook page, Mercedes Germany has released a sketch of its new model. To me, the sketch looks like the 2014 S-Class coupe, well, although Mercedes-Benz didn't necessarily mention the term 'coupe', and the new model seems kind of wider than the previous generation Mercedes-Benz S-Class coupe. Furthermore, it's known that the 2014 S-Class will also come in a convertible and coupe version.
In addition to that, no matter how I look at it, the styling cues portrayed in the sketch don't seem to match those of the actual sedan being launched at the home country of Mercedes-Benz today. So, in short, I think it's safe to say that we should be getting ready to behold the launch of the 2014 Mercedes-Benz S-Class Coupe which will seemingly take place in the near future. Otherwise, I don't think the German automaker will be revealing the design of its new model in such detail.