Rolls-Royce revists the Alpine Trial after 100 years
How do you feel when you see VW rims on Skoda?

22 members have voted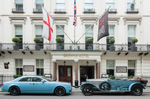 In May 1913, James Radley set off from Brown's Hotel in London's Mayfair for a famous motoring adventure - the 1913 Alpine Trial. A century later, the same Rolls-Royce Silver Ghost has returned - ready to depart for a re-enactment of the event.
Forming the modern day Rolls-Royce Works Team, Radley's car will join a contemporary pioneer, a 2013 Alpine Trial Centenary Collection Rolls-Royce Ghost on a faithful re-enactment of the rally in June this year.
But the Works Team will be accompanied by more than 40 Rolls-Royce Silver Ghosts - many over a century old to traverse over 1,800 miles of Alpine roads.
The rally will start in Vienna on 14th June 2013, and will pass through Italy, Croatia and Slovenia before returning to Austria's capital for a special evening hosted by Margraf Pallavicini at his Palais, exactly 100 years to the day since the finale of the original Alpine Trial.
Taking in some of Europe's finest and most challenging mountain roads, the rally will meet with a group from the Rolls-Royce Enthusiasts' Club at Riva Del Garda, Italy, on Friday 21st June where 100 historic Rolls-Royce Silver Ghosts will assemble for the largest gathering of its kind in history.
The Rolls-Royce Silver Ghosts' exceptional performance in the 1913 Alpine Trial saw it earn the moniker 'The Best Car in the World', cementing the marque's reputation for engineering excellence and impeachable reliability.
To celebrate this extraordinary moment in Rolls-Royce and automotive history, the Bespoke department at the Home of Rolls-Royce in Goodwood, England designed and crafted a 21st century homage.
Finished in an exterior hue that takes inspiration from the Radley car, the 2013 Alpine Trial Centenary Ghost features exquisitely crafted bespoke touches that elegantly tell the story of the 1913 Trial.
The clock displays the stages of the rally and timings while inlays to rear picnic tables and the front fascia express the topography and distances of the Alpine route.
A hand-painted coachline referencing the four Rolls-Royce motor cars that took part in the rally and headlining, colour-matched to the hood of Radley's car, completes a beautiful homage.