This guy may be bored of his precious life
How do you feel when you see VW rims on Skoda?

22 members have voted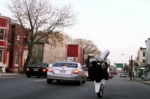 Well, surely there are plenty of amazing things you can do in life. However, the kind of stunts you are about to watch in the video below is likely not included as one of those amazing things.
While there are some pretty mind-boggling stunts you can do with a motorcycle, this guy is really pushing the limit, yet in a bad way. Every single motorcyclist is supposed to know that putting on a helmet is one really basic rule to obey when it comes to riding a motorcycle. However, I think some people are just ignorant, if not stupid enough, to take this rule for granted. Then, when things happen as opposed to their expectations, only then will they start to regret, which is hopeless, useless and, obviously, too late.
However, the guy, whose video you are about to watch, doesn't seem to care about these rules. He tries to show off some motorcycling stunts without any helmet protecting his head despite the basic rule I just talked about earlier. Well, maybe he doesn't really care about his head anyway. He's kind of stupid, after all.
Not wearing a helmet and yet, the guy is still daring enough to perform wheelies on a pretty busy, I repeat - pretty busy, road as you can see from the traffic density in the video. As you can tell, he may fail his stunt and fall onto the road at any given time and, when that happens, he will crash his head hard on to the asphalt! And, to make things even worse, chances are really high that one or more cars may run over him right after he falls.
However, it's a good thing and quite a relief, too, that he didn't fail his stunt this time, at least that's how it seems to me. Still, this is not something you are encouraged to try, not even at the tiniest bit! Try to keep that in mind, will ya?