205,000 Suzukis may face potential recall due to airbag sensor flaws
How do you feel when you see VW rims on Skoda?

22 members have voted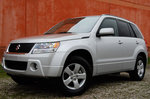 If you live in the USA and you're a proud owner of either a Suzuki Grand Vitara (MY 2006-2011) or the Suzuki SX4 (MY 2007-2011), it is likely that these vehicles are in for a recall. Yes, you heard it right. According to the National Highway Traffic Safety Administration (NHTSA), either of the aforementioned models has some flaws regarding seatbelt and airbag sensors.
There have been at least 128 complaints filed related to seatbelt lights, airbag indicators, and airbag warning lights. In total, the number of troublesome Suzukis has reached 205,000 units.
Fortunately, Suzuki - as it is supposed to, I think - seems to be aware of the issues. The Japanese automaker has confirmed that the passenger seat load indicator on their lineups for the 2009 model years has an error in its programming indeed. In addition to that, there's also this open-circuit problem that prevents the sensor mat from appropriately determining whether a person sitting in the front seat is an adult or a child. Bad news for Suzuki, these issues affect both the Suzuki Grand Vitara and the Suzuki SX4.
Aware that their cars have airbag issues besides the ones mentioned earlier, the Japanese automaker has taken necessary action by upping the seat cushion bottom warranty for its cars to either 10 years or a total of 120,000 miles. Fortunately, it seems that there has yet to be any report of injuries. Nonetheless, you should still expect a recall from the automaker from the land of the rising sun.
Well, it seems that Suzuki is really in trouble. Aside from this potential recall issue, the company has also filed a bankruptcy plan not so long ago and it has been court-approved.