Italian firm Icona will make its U.K. debut at Salon Prive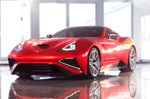 Here is a new supercar maker to take note of - Icona from Italy. Well they are not exactly new, having been around since 2010, with the launch of the electric concept car - the Fuselage. The Fuselage was a finalist at the 27th Festival Automobile International in Paris in the World's Most Beautiful Concept Car competition.
The Italian firm was founded by Italian members and is led by an Italian director. The headquarters for the automaker is in Shanghai while the car is made in Italy.
Icona has recently developed their second car - the pretty wicked looking Vulcano - which will make its U.K. debut in September at Salon Prive. The Vulcano coupe seats two and was unveiled in Shanghai earlier this year. The one-off is powered by a V12 Hybrid reaching up to 950bhp, capable of a top speed of 350km/h and a quick century sprint timing of nine seconds.
The Vulcano was engineered by world famous former Scuderia Ferrari technical director Claudio Lombardi.
Sales Director, David Bagley commented, "Icona is a very exciting new brand and we are delighted that it has chosen Salon Priv