Could EVs really be the future of automotive?
Entry posted by Nic_low ·
1,546 views
How do you feel when you see VW rims on Skoda?

22 members have voted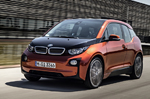 Inside these pretty pictures is the new BMW i3. And if you haven't heard of it, the Bavarian automaker is heading full steam into Electric Vehicles (EVs) and the i3 will mark its foray in the segment.
Under its 'i' sub brand, BMW will create two vehicles. The first - the i3 - was conceived to be an urban runabout - or MCV (Megacity Vehicle).
A more mouth-watering i8 Spyder concept is scheduled to be launched at a later date. And we are keeping our fingers crossed that the production version will look just as stunning.
Back to reality. Yes, the i3 is already on its way to its production run and will be on sale by next year. Much of the futuristic element of the concept has been inherited, and we must say it is one of the best looking EV so far - bar the sexy Tesla Roadster.
BMW has vowed to make the i3 as 'liveable' as possible. Space for more than one - check. Proper seats - check. And there's the ingenious-looking cabin aperture, which does without the B-pillar for easier entrance into the cabin. Not bad at all.
One of the most pressing question that must have popped into your mind by now - how far will it go on one full charge? On paper, it says 150km - a very usable range if you consider most of us in Singapore only do 50km daily.
But what if those figures aren't reassuring enough? Or you need a longer range? BMW will offer an optional range extender, which will increase the total range to 300km.
The minimalist interior design of the i3 is a fresh approach, and looks welcoming to us.
The switch-gear looks straight from a sci-fi show, and seems easy to use too.
Fans of the marque will be familiar with these ConnectedDrive controls. Look further and you will realise that there isn't a 'Sport' option on the drive select switch - proof that the i3 was meant to be a practical, economical city car after all.
The whole package of the i3 looks pretty enticing. But if this is really the future of motoring, does it spell doom for adrenaline-pumping, mind blogging petrol-driven cars that we have been so accustomed to from day one? Jot down your thoughts below.