Mugen's take on the new Honda Fit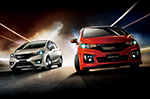 Now that we all know how the new Honda Fit/Jazz is going to look like, Mugen, one of the few big tuners for Honda, has just launched their new line of aftermarket goodies for the new Fit.
Firstly, they designed two different types of front spoiler, one of which is more aggressive than the other. Customers will also have the option to choose the front under spoiler and the side spoiler in either single body colour or two-tone with body colour and matte black. An upper rear wing finished in carbon is also available for the RS/S Package giving an even sportier look.
A new wheel, Mugen "MD8", has also been developed for the new Fit in addition to two other styles that are already in Mugen's lineup.
Those who are looking to improve their performance on the road can look forward to Mugen