Autonomous driving by Mercedes-Benz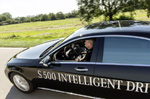 With its S500 INTELLIGENT DRIVE research vehicle, Mercedes-Benz has become the world's first automobile manufacturer to demonstrate that autonomous driving in rural and urban traffic is possible.
In dense 21st-century traffic, the autonomously driving S-Class is required to successfully cope with some highly complex situations involving traffic lights, roundabouts, pedestrians, cyclists and trams.
What makes this ground-breaking achievement even more special is that it is realised not through the application of extremely expensive special technology, but by means of production-based technology of the kind already available today in new E and S-Class vehicles.
The project thus marks a milestone on the way from the self-moving (automobile) to the self-driving (autonomous) car.
The main advantages of autonomous driving are plain to see - it allows motorists to reach their destination quickly, safely and in a more relaxed frame of mind.
Above all on routine journeys, in traffic jams, on crowded motorways with speed restrictions and at accident blackspots, an autonomous vehicle is capable of assisting the driver and relieving them of tedious routine tasks.
One question remains. Are we really gonna allow cars to drive us in future? Watch the video below to see the autonomous S-Class work its magic.