Spice up your Accord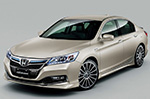 From its previous generation to the recently launched one, the Honda Accord has been a generally well-liked family sedan. So to add on a bit of spice, I've decided to see whether there are any nice tuning bits for this handsome car.
Mugen has already done some cool packages for the Accord. Eagle-eyed readers will notice that this is actually the Accord Hybrid, which has not arrived on our shores yet but it seems to me that most of the styling changes can be retrofitted onto the normal Accord too. On the outside, Mugen has given it more presence with a new set of front, side and rear skirts. There are carbon front grill and carbon boot lid spoiler as well.
You can also opt for their new 19-inch lightweight alloy wheels to improve on the handling side of the already well-balanced sedan.
Other than the above mentioned, those who already have the car should go and get a set of coilover to complete the stance look!