Testing the Jeep Wrangler Sahara Unlimited
Not too long ago, we had the chance to sample the Jeep Wrangler Sahara Unlimited in its natural habitat. We jumped at it, considering we never had the chance to witness the car's capabilities off-road. To do that, Jeep organised a trip for us to venture into the wilderness of Johor.
On the way there, we also tested the Wrangler's high speed stability via some of the highways. Considering it was built to excel off the tarmac, its on road manners was pretty good and it was more comfortable with four up than what we expected it to be. Its 285bhp, 3.6-litre V6 powerplant made short work of the highways too. We wished the Wrangler's steering could be adjusted for reach though. Otherwise, the cabin is user-friendly and it felt like it could last a lifetime.
Once off-road, everything fell into place. Its ride, which was slightly soft on road, soaked up all the bumps and ruts easily. Ample suspension travel allowed its wheels to articulate well also.
Having some fun with mud...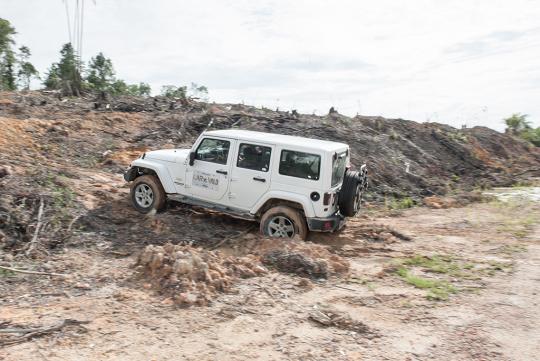 Switching to low range 4WD mode, the Wrangler made mince meat out of the muddy climb.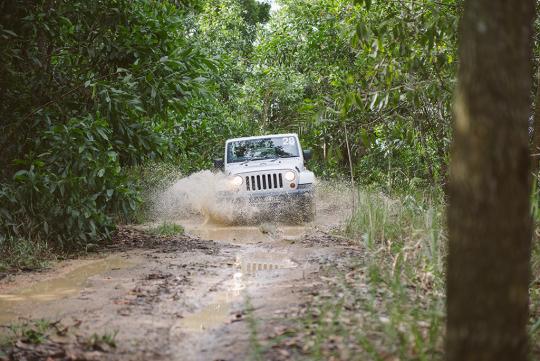 Like little boys, we aimed well at the mud puddles and charged through.
Another hill that proved too easy for the Wrangler.
All in all, we had a blast driving the Wrangler. If you want something funky looking, capable, fun-loving and be an occasional cabriolet (its doors and roof are detachable), this may just be for you.