Five things you didn't know about the Spirit of Ecstasy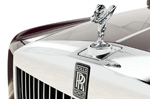 The Spirit of Ecstasy, also called 'Emily', 'Silver Lady' or 'Flying Lady', is the bonnet ornament on Rolls-Royce cars. It is in the form of a woman leaning forward with her arms outstretched behind and above her. Billowing cloth runs from her arms to her back, resembling wings. Here are five things you didn't know about the emblem.
1. The Spirit of Ecstasy on Rolls-Royce's latest model, Wraith, is positioned on a slightly different plane to other models. It is placed further forward on the grille and angled by five degrees. Her eager position draws the eye up and along the bonnet, helping define the development of three harmonious lines - the waftability line, waist line and roof line.
2. As a mark of respect to the emblem and the marque, walking across the front of the car is considered disrespectful.
3. One of the most popular bespoke features in China is a gold plated Spirit of Ecstasy.
4. A particular customer in India had a special request for his Spirit of Ecstasy to be decked in ruby and diamonds.
5. The Spirit of Ecstasy can be set to 'auto' (retracts when you switch off the engine), or manually controlled via a button in the glovebox (Phantom) or from the rotary controller (Ghost and Wraith). And if you hit the Spirit of Ecstasy with some force (e.g. with your hand), it will also retract.