Need for Speed Rivals gets free 2015 Ford Mustang update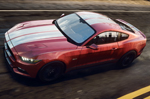 http://www.youtube.com/watch?v=AFLTg49eGt0Need for Speed Rivals, the latest driving game in the long-running Need for Speed series, showcasing a huge range of high-performance vehicles in a classic cops-versus-robbers road race format, have just added the 2015 Ford Mustang, which was recently unveiled in a global event, with a small update over the weekend. It's a minor addition: apparently the car feels largely similar in-game to the existing 2014 Mustang GT and GT500, but the styling is distinctly different.
As a free download, the update is a good dose of advertising for Ford's new coupe, which will come to Australia in the not-too-distant future with a choice of 5.0L V8 or fuel-efficient 2.3L EcoBoost turbo-charged four-cylinder. The 2015 Mustang is a significant evolution of the storied "pony car", finally adding independent rear suspension to a platform that until now used an antiquated solid axle setup.
''Rivals'' is the 20th entry in EA's long-running ''Need for Speed'' series. ''Rivals'' revs up the franchise by borrowing some of the best traits from past EA racing games, all while forging its own route with graphics that illustrate what's possible with new fully loaded gaming hardware.