Blissful Cruising
To the sunshine-loving motorist, few things can top the sensation of driving with the top down. But in the current COE climate, buying a brand-new convertible is prohibitively expensive, so the next best option would be to pick up a pre-owned unit.
Aside from the usual buying tips, such as making sure that the vehicle has a sound service history and hasn't been in an accident, would-be owners also need to focus on several key areas that are unique to convertibles.
The most obvious would be the roof system. According to Ivan Koh, sales director at Vincar, if the roof is made of fabric, you should inspect it closely for tears on the canvas. Don't forget to take a careful look at the "inside" portion that covers the cabin, too.
If the convertible has a folding hardtop, Ivan's advice is to operate the roof while listening for any unusual noises and watching for "hiccuping" movements in the mechanism. A problem-free roof will not emit creaking sounds and its action will be smooth, whether going upwards to deploy or downwards to stow. The same applies to manually operated soft-tops, perhaps on a two-seater roadster.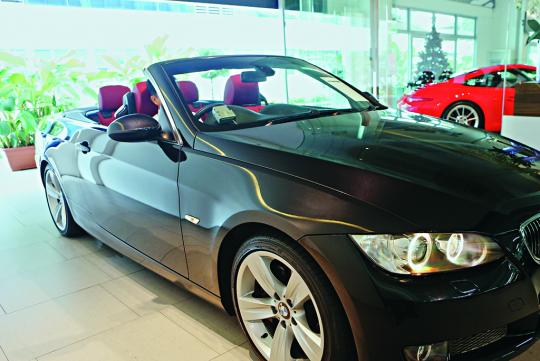 First-time "topless" drivers might not be aware that convertibles generally aren't known for their interior insulation. Be it a soft- or hard-top, it is normal to hear some rattling from the roof area, especially when the car is driven over rough road surfaces.
A convertible's roof should also be free from leaks. If a dealer claims that they've put the vehicle through a car wash, they should have no qualms about doing it again to prove that the canopy is indeed waterproof. Look out for any water that seeps into the cabin – even a few drops could be a sign that the overhead seals have deteriorated.
Now, if the topless wonder you're eyeing meets the aforementioned criteria, all that remains is for you to ascertain the dealer's after-sales support. Ask the agent how quickly they can get you a new or refurbished roof in case your existing one needs to be replaced. Good dealers (Vincar being among them) will be able to source the item in about a month's time.
Keep these pointers in mind when buying that nifty used number and you can look forward to many kilometres of topless, trouble-free cruising
This article was written by Jeremy Chua, writer for Torque.