More photos of Audi R8 V10 Plus
The Audi R8 V10 Plus. What a memorable experience. Not having driven a supercar before, I was intimidated by its width at first but soon enough, i gained confidence and boy oh boy, it was a lovely drive. This is definitely ranked pretty high up there as one of my all time favourite drives. I say so because I found myself missing that V10 note, the very responsive gearbox, the security of the quattro system and yes.. did i already mention the V10 note?
Anyway, here are some unpublished photos of the feature where the R8 starred in. Hope you readers like it!
The V10 Plus comes with harder spring and damper rates than the lesser V8 and V10 models. It rides pretty firm but never crashes into the bumps when going over the rougher stuff. Still pretty good considering it loses the magnetic system which the normal V10 gets.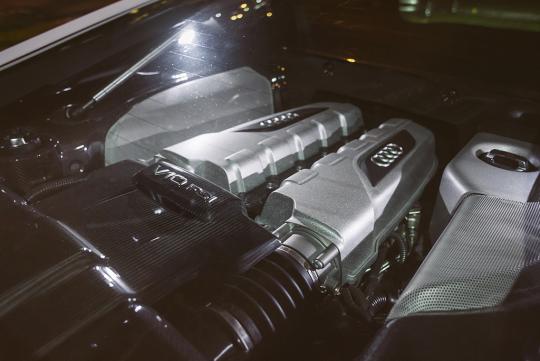 0-100km/h in 3.5 seconds and 0-200km/h in 11.3 seconds. Credit goes to the engine in the above photo.
Plus variant means more carbon fibre parts inside and outside. All in all, 50kg of weight has been shaved compared to the normal V10 R8. Love the way the door handle protrudes towards the driver to allow him/her to open for the door easily.
Some may argue that this makes the car feel dated but to me, only a proper handbrake is right.
Fun ends at 8,700rpm.
Paddles are a joy to use.
B&O sound system performs well but the V10 sounds better actually!
Sideplates finished in carbon. Sexy.
LED headlights piercing through the thin mist on a very cool night..