Corvettes starts to get rescued from sinkhole at museum
Entry posted by Deeq ·
3,261 views
A 1993 40th Anniversary Chevrolet Corvette is unstrapped from the crane that removed it from a sinkhole at the National Corvette Museum on Monday.
Two of the eight Corvettes swallowed Feb. 12 by a sinkhole at the National Corvette Museum in Bowling Green, Ky., were lifted out of the hole and placed back in the showroom.
As a crowd of spectators cheered and thousands of viewers watched online, the 2009 ZR1 Blue Devil -- one of two cars on loan from General Motors -- and the 1993 Ruby Red 40th anniversary edition were lifted by a crane and placed at ground level.
The Blue Devil, which appears to have endured minor damage during its nearly 30-foot plunge, was driven about 20 feet to the museum's doorway, said Katie Frassinelli, a museum spokeswoman.
Video of the retrieval showed that the Ruby Red 40th anniversary edition sustained broken windows and severe damage to its front and rear.
Retrieval of a black 1962 model will be much "trickier" as a five-ton slab of concrete rests on the front of the vehicle, the museum said.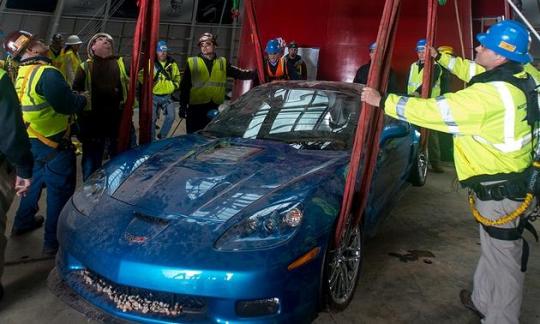 Two cranes will be used to simultaneously lift the car and the concrete, the museum said.
Other Corvettes to be retrieved are a 1993 ZR-1 Spyder, the other car on loan from GM; a 1984 PPG pace car; the 1-millionth Vette, built in 1992; a 2001 Mallett Hammer Z06; and the 2009 1.5-millionth Corvette.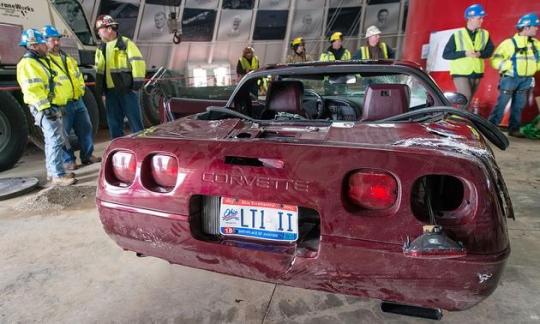 Recovery of the vehicles is expected to take through Aug.
The museum plans to display each vehicle after it is recovered until all eight are taken together to a small shop within GM Design in suburban Detroit for restoration.
Webcams are positioned around the sinkhole and pictures are available on the museum's Web site.