Lamborghini Aventador LP700-4 CARBONADO GT by MANSORY : For the carbon fibre lover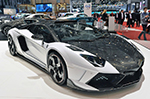 Anyone who loves carbon fibre will probably love the Lamborghini Aventador LP700-4 CARBONADO GT by MANSORY. MANSORY practically took every non carbon fibre body panel of the car and swapped it with carbon fibre. Keen to showcase the amount of carbon fibre it has, it even leaves the centre part of the car clear.
One of the biggest exterior change is its new front skirt with optimised air intakes for improved ventilation of the front radiator. Its sides have also grown by 40mm at the front and 50mm at the rear. New diffuser built into the new rear spoiler stabilises the rear at high speeds and creates surface contact pressure together with the enlarged rear wing on the rear axle also.
To match its extreme look, MANSORY gave it enough power to back up its look. Fitted with two MANSORY turbochargers, new pistons, connecting rods, rod bearings, crankshaft, crank and cylinder, it now puts out a humongous 1,600bhp and an electronically-limited torque of 1,200Nm. We assume the limiter was there to protect itself from killing its gearbox! This accelerates the bi-turbo V12 from 0-100km/h in a scant 2.1 seconds. The top speed is an eye-watering 370km/h.
Fast enough I hope?