Hat-trick of wins for Hamilton and the Mercedes AMG team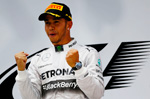 Lewis Hamilton recorded his first hat-trick victory of his career as well as in the Chinese circuit and, in the process, led the Mercedes AMG team to another dominant victory for the third consecutive time in the 2014 season.
At the end of the 54 laps, Hamilton crossed the chequered flags 18 seconds ahead of team mate Nico Rosberg, in the other silver arrows, and 23 seconds ahead of Fernando Alonso in the Ferrari - the first podium finish for the Italian team in 2014, delivered in front of new Team Principal, Marco Mattiacci.
Like in the previous two races in Malaysia and Bahrain, it was a leisurely cruise for the Brit after sprinting ahead of the rest of the grid, as the Mercedes team executed a flawless two-stop strategy. Besides a mild error before his first pit stop where Hamilton slid wide at Turn 14, it was an effortless race.
Rosberg recovered from a poor start to aid in Mercedes' podium dominance once again, while Alonso defended the briskly charging Red Bull of Daniel Ricciardo in the closing laps to secure the last spot on the podium. The other Ferrari at the hands of Kimi Raikkonen had a quiet race and managed a best of eight after starting off the grid in 11th.
Felipe Massa's impressive start off the line was short lived after trying to squeeze into a gap too small for his Williams and banged wheels with his former teammate's Ferrari. After the minor incident and a botched first pit stop which involved a mix-up of rear tyres - the Williams driver crossed the line in 15th.
His teammate, Valtteri Bottas, was also lucky to survive his first corner incident after making contact with Rosberg, who had a terrible start and had to fight past Massa and Nico Hulkenberg on the first lap to get into fifth.
Defending champion, Sebastian Vettel, was once again outperformed by his teammate and had to settle for fifth. McLaren had another weekend to forget after its drivers crossed the line out of points classification in 11th and 13th respectively.
The F1 circus heads to Barcelona in around three weeks, with Rosberg marginally leading the drivers' championship over Hamilton and Alonso at 79, 75 and 41 points respectively. In the constructors' charts, Mercedes with 154 points are clear of Red Bull and Force India with 57 and 54 points respectively.