1,700km in the Ignis Sport (Part 2)
Continuing from my previous post, it was already Day 2 of my 'epic' road trip with the Ignis Sport. Day 1 in Penang past way too fast and the thought of that immediately jolted me out of bed. There was really no time to waste!
Quick wash up later, I was pleasantly surprised to find a little buffet spread waiting for me. Nothing fancy but you could taste everything was very home made.
Checked out after that. (Yup, that was the only sign I was at the right hotel)
And I went around for a little drive to see where I could take some shots of the Ignis.
While the harbour was a nice place for some shots, I found myself more amused by the sight of these blocks of flats. Damn. I must be homesick already.
Like most Singaporeans, I had to do some shopping. Unfortunately, I was either too early (1:00pm) or I was at the wrong mall (Pranglin mall), most shops were closed and there was nothing much to buy.
Shopping failed, so I thought I should entertain my tummy then. Drove to Perak Lane to try the Kim Eng Lor Mee.
Honestly, another overrated dish like the prawn mee that I tried the previous day but the wanton mee which I randomly bought turned out better.
Checked in at Holiday Inn at Batu Ferringhi. Clean but old room.
Beach looked inviting enough but I had better plans....
Listed as one of the best roads in the whole of Malaysia, Jalan Teluk Bahang is a stretch of tight B-roads which climbs and then descends on the other side. But before that happens, I had to drive along the beach which was pretty.
And a big dam, which was also one lovely great place for shooting.
Then the fun started. This was already halfway and I had trouble telling myself to stop.
As you can see, the roads are pretty tight and corners come to you in quick succession. Half the time, the corners are not sighted so I did not dare to commit. But on those times when I could, the Ignis was the perfect partner to dance with on these roads. I especially love the way the car allows you to adjust your lines mid corner with the throttle.
On the way down, it started drizzling and I had to slow down. But I still had fun as the wet ground meant mini handbrake drifts could be pulled off easier with the Ignis now. Needless to say, my passenger was not happy at all.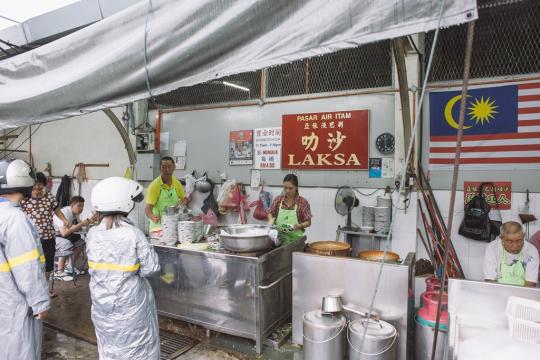 Before we reached Penang hill, we stopped for Air Itam's Asam Laksa.
Does not look exactly appealing here but it is probably the best dish I tried for the whole trip.
Then it was time to go up the hill.
Going up by tram.
Luckily for me, the hill was chiller than normal since it just stopped raining.
Coffee, nice view, chilly weather. Perfect.
Sat for an hour there to witness the night scenery. You can see both bridges that lead you back to mainland here.
Feeling hungry, it was time to head back the long way to our hotel. This was shot at the start of the climb and I was feeling excited at being able to live my dream of being an Initial D driver.
B-roads again. However, this time round, it was a bit more treacherous as it got pretty dark at times.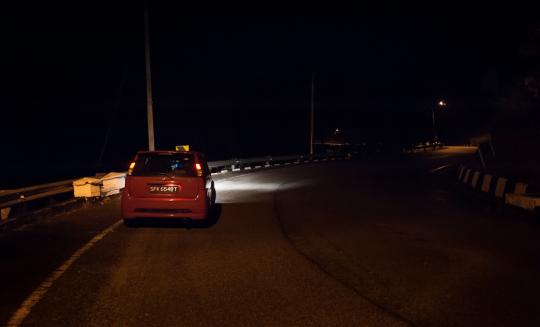 Some parts of the roads are pretty eerie admittedly. I also got pretty stressed up knowing that if I do go over the edge, it would be quite some way down. Needless to say, I drove slowly and totally gave up my hopes of re-enacting any moves learnt from Initial D.
After some 45 minutes of driving, we emerged into civilisation again. Did some walking at their night market which was no different from those in other countries before calling it a day.