Malaysia Highway R&R-stops to be
Entry posted by Deeq ·
3,761 views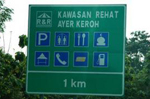 Smokers, take note. All highway R&R stops are set to be gazetted as "No Smoking" zones by the end of this year. This was announced by Health Minister Datuk Seri Dr S. Subramaniam, who added that eateries and toilets at R&Rs will be smoke-free.
Those who want to smoke can do so at the R&R parking lots, he told reporters after launching the national-level International No Tobacco Day event in Ipoh yesterday. According to the minister, the ministry had a meeting with all highway conccesionaires and they have agreed to the proposal. "We want to implement this as soon as possible," he said.
Smoking pedestrians, you've got mail too. Subramaniam revaled that KL City Hall (DBKL) will also gazette its 23 km of sheltered walkways in the city centre as smoke-free zones.
"The authorities will also be stepping up enforcement and monitoring these areas to deter people from smoking. I know that enforcement will be a challenge as it covers a large area, but it will be done. It is only through strict enforcement that we can drive our message across," he said, adding that offenders can expect to cough up between RM250 to RM500 in fines.
The measures are part of the Ministry of Health's target to lower the number of smokers in the country by 16%. The Global Adult Tobacco Survey 2011 indicated that 23.1%, or 4.7 million Malaysians, are smokers.