Love Imprezas and rallying? Then watch this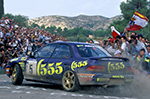 Have some spare time kill? Why not watch some old footage of Subaru's Impreza 555 slide, bang, wheezes and screech its way around some fearsome rally stages around the world during the 90's. For maximum enjoyment, turn up the volume and listen to its all-to-familiar boxer rumble.
http://dai.ly/x23es4e_subaru-impreza-group-a_auto
Some quick facts on the Impreza 555 Group A car.
Engine : 1,994cc flat four quad cam 16 valve
Power : 320bhp @ 5,500rpm
Torque : 460Nm @ 4,000 to 5,000rpm
Weight : 1,230kg ( FIA minimum regulation )
Transmission : Prodrive six-speed semi auto pneumatic paddle shift + regular H pattern
Turbocharger : IHI VF15 RHB53 with FIA regulated 34mm restrictor. Maximum boost of 3 bar @ 2,500rpm