Toyota unveils Supra replacement
Entry posted by Nic_low ·
16,619 views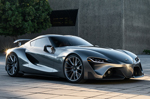 It seems that Toyota is keen to inject more athleticism in its model lineup, after the recipe worked well for the GT86, as well as for its sister company Lexus with the new RC Coupe.
It has been more than a decade since its last halo sports car, the Supra, saw daylight. Better late than never, there is now a beam of light at the end of the tunnel. The FT-1, no doubt, will be the spiritual successor to the Supra, and may even bear the same moniker when it goes for production.
The futuristic-looking aspect of the concept is further enhanced with the new graphite paintwork, compared to vibrant red on the first concept shown at this year's Detroit Auto Show,
The Japanese automaker is offering a first-hand experience of the concept too - albeit in the virtual world. This latest version of the FT-1 is available for download on Gran Turismo 6 - a driving game on Playstation.
For now, let's keep our fingers crossed that much of the cool-looking stuffs on the FT-1 will head on to production.