Singaporean's Veyron 1 of 1, at the Pebble Beach Concours d'Elegance
Entry posted by Deeq ·
10,950 views
Bugatti traveled to the Pebble Beach Concours d'Elegance to introduce a one-off model appropriately named Veyron 1 of 1.
The Veyron 1 of 1 was commissioned by a wealthy customer who lives in Singapore. Outside, it stands out from a stock Veyron thanks to a custom black and yellow paint job that pays homage to many vintage Bugattis including the Type 55, the Type 44 and the Type 41 Royale. Yellow accents on the rims, on the gas cap and on the radiator grille add a finishing touch to the two-tone paint job.
Interestingly, the Veyron 1 of 1 is fitted with a hand-polished radiator grille that features a mesh pattern built using the letters PL, the owner's initials. Bugatti explains the radiator grille took over 200 hours of work to finish.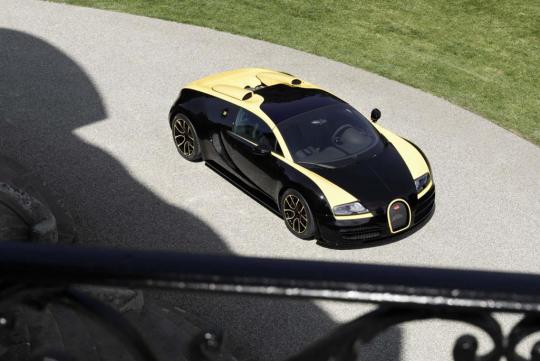 The two-tone motif continues inside the Veyron with yellow stitching on the steering wheel, the shift knob, the bucket seats and the center console. A drawing of a Bugatti Type 35 in full race regalia adorns the panel between the seats.
Power comes from a stock Veyron-sourced 8.0-liter 16-cylinder engine that makes 1,183 horsepower and 1500Nm of torque. Power is sent to all four wheels via a seven-speed dual-clutch transmission, allowing the car to reach 100km/h from a stop in 2.6 second and go on to a top speed of 400km/h.
Bugatti has not revealed how much the lucky owner paid for the Veyron 1 of 1. The company recently revealed the average selling price of a Veyron is €2 million (roughly S$3.3 million) including options, indicating the one-off model likely cost a whole lot more.