Great day for school sports eclipsed by LTA-SMRT exchange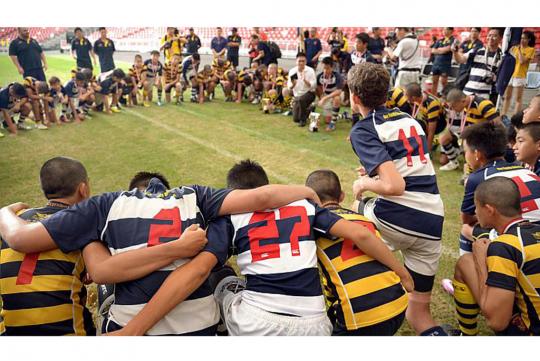 An image from the Schools National C Division rugby championship final between Anglo-Chinese School (Independent) and St Andrew's Secondary last Tuesday has been making the rounds online. It is of both teams coming together to say a prayer and shake hands after battling each other on the field - a nice touch by the arch-rivals.
This is the story that should come to mind when people talk about the first schools final at the new National Stadium. Instead, that historic event for school sports will now be remembered for the very public exchange of words between the Land Transport Authority (LTA) and public transport operator SMRT over the charter of MRT trains by ACS(I).
The picture of foes coming together epitomises all that was missing in the LTA-SMRT saga, which involved the release of four press statements over four days and suggested little synergy between the two.
In the end, the head-on collision that seemed imminent was averted last Friday night when LTA said it would not be taking SMRT to task after all for failing to seek approval before chartering trains to ACS(I).
For SMRT, fined multiple times by the LTA over the last few years for service disruptions and breakdowns, the decision will come as a relief. For LTA, under pressure from commuters unhappy with a strained public transport system, the move, it said, showed that it takes its responsibility to safeguard public interests very seriously.
Yet, most of us watching the drama play out over the last few days have been left wondering what the fuss was all about.
ACS(I)'s unorthodox move to charter trains was done in part to mark it being in the first schools national sports final at the new National Stadium. To support their rugby team, about 3,000 students, staff and alumni boarded five trains from One-north station to Stadium station last Tuesday.
The decision to opt for trains was two-fold, said the school. One, it would reduce a logistical nightmare. The school estimated that it would need at least 80 buses to move that many people, which would put a strain on traffic around the stadium. Auxiliary police might also have been needed to manage traffic.
Second, at about $2 a head, the trains were more cost-effective than buses. SMRT was convinced the arrangement would have no impact on normal train operations, given the school's 1pm non-peak hour departure, with the chartered train shadowing a normal service train.
It was almost a perfect plan, save for one boo-boo: SMRT failed to seek LTA's approval, as stipulated under its Circle Line licence.
Never mind if precedents had been set, with schools opting for similar arrangements to shuttle students during National Education shows and National Day parades. SMRT still erred and for that, LTA felt it needed to be told off publicly. Yet, it is hard to see how the public wrist-slapping would benefit either party. It speaks more of the lack of communication between the two than anything else.
At a time when "conversation" seems to be the buzzword in the political arena, LTA's "fire first, ask questions later" approach is out of sync.
In a strongly worded statement last Tuesday, it said it was "looking into the appropriate action to take" against SMRT. Last Friday, however, LTA confirmed that the chartered rides had no impact on normal train operations and commuter safety, and so it chose not to sanction SMRT.
The authority's perceived change of heart makes one wonder if a better approach would have been for it to have some patience and check on the severity of any breach, before issuing a private warning.
Instead, the very public nature of the episode not only made the situation seem bigger than it was but also threw up more questions.
On Facebook posts and online forums, many wondered if the reluctance to be harsher had to do with ACS(I) being an elite independent school. But some also wondered if the LTA felt compelled to act because an elite school was involved, and it needed to ensure such schools do not enjoy special privileges.
In the end, it was a smart move by the school to secure the most efficient and least disruptive way to get its big contingent of supporters to the Sports Hub in the shortest time.
And it is a smart move by SMRT to make this charter option available without disrupting normal services because this fits in with its role as a public transport operator.
How differently this might all have played out if more of us knew you could charter trains, or if LTA could have seen the upside of supporting such a move by the train operators.
Besides, if you're heading to the Sports Hub, nothing beats taking the train there.
For everyone who knows school sports, an ACS(I)-St Andrew's rugby final is always special, and when the showdown between these arch-rivals is the first school final at the National Stadium, it has added significance.
On a day when sports should have been the winner - and a school's ability to move 3,000 supporters a spectacle in itself - it is a pity that the day will be remembered for an unnecessary public display of regulation.
ST Photo by Lim Sin Thai