'Go Fun Yourself' says Toyota with its new Aygo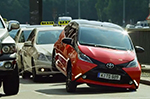 Every now and then, we get car makers who come up with amazing advertisements that catches our attention. Toyota Europe's 'Go Fun yourself' advertising campaign's new commercial sure did!
In this YouTube clip, Toyota decides to tie the Aygo's fun-loving nature with its head-turning design. Watch how the Aygo goes around showing who's boss in its natural habitat (the city) in the video.