Watch this guy drift through most of the Green Hell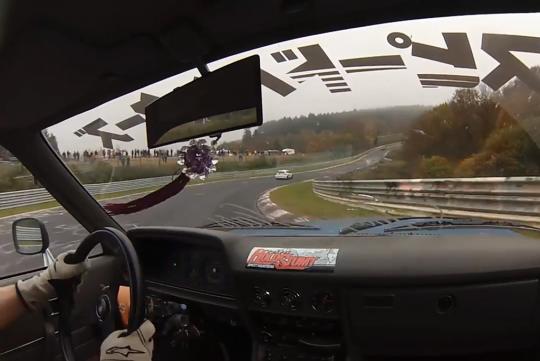 The Nurburging Nordschleife is known to be a tough track for most people but this guy thinks its no big deal. And he proceeds to drifts through the whole track in a 70's old-school tin can that probably has no safety feature of any sort other than the seat belts. Pretty awesome stuff.
https://www.youtube.com/watch?v=GIwkvk4mB58
In case you are wondering, the retro blue sedan is actually a 2JZ-GE powered X30 Toyota Cressida. Engine is claimed to be stock and should output around 220bhp and 290Nm of twisting force from a naturally aspirated 3.0-litre in-line six engine.
https://www.youtube.com/watch?v=Rq2ktZSyoEo