Shenzhen to curb car population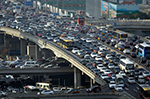 Shenzhen, a city in southern China, is following the lead of the other cities in its country in putting a cap on number of new car registration. With a population of around 11 million, it plans to keep new car registration to just 100,000 per year.
With around 3 million or more vehicles running around on the streets of Shenzhen, the city is having a tough time dealing with the smog and congestion issues as the world's biggest car market grows further. The allocation of 100,000 vehicles per year is set to be imposed for the next five years and it includes an allocation for 20,000 electric vehicle. Half of the registration of the new car plates will be distributed by auction like how we have it here while the other half will be via a lottery system.