BYD debuts the Tang SUV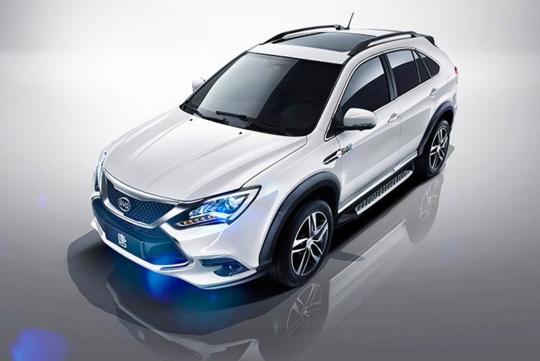 China manufacturer, BYD, has just introduced its Tang, one of the fastest SUVs around with a total output of 505bhp and 720Nm. And it can do 50km/L.
Yes, this is a hybrid. A very fast one actually. For sale only in China, the Tang gets its huge output from the combination of a 2.0-litre turbo petrol which puts out 205bhp and two electric motors that produce 150bhp each. Power is then channelled to each wheel via a six-speed automatic transmission.
Like most hybrids, the Tang has a different driving modes that allows the driver to choose between an electric only mode or a mix of both electric plus the assistance of the petrol engine. Four modes are available with the all electric only mode driving only the rear wheels via the rear motor. A range extender mode is next up with it using the petrol engine to charge the both the front and rear electric motors. Drive goes to the rear wheels only in this mode.
The third mode then switches the car into hybrid mode, with drive going only to the front wheels via the help of both the front electric motor and the petrol engine. Lastly, a maximum attack mode uses both electric motors and the petrol engine to summon drive to all four wheels for all-out forward thrust.
Need even more power? A limited edition of the Tang, the Tang Ultimate, is available with a host of performance upgrade which in turn sees the century sprint timing dropping to 4.4 seconds from the original's 4.9 seconds. Now that is pretty fast.