A WRX engine is what the Subaru BRZ needs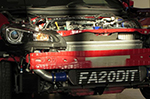 One of the largest criticism of the BRZ/86 pair is it lack of power. While it is widely known as one of best handling car sensible money can buy, fans of it are calling out for more power. And like most high performance Subarus, it needs to be turbocharged.
Well, it seems like an Austrian company, Speedheads Performance, has managed to sort that out by doing an engine swap with the new Subaru 2.0-litre FA20 DIT (direct injection turbo) engine which can be found in the WRX and the Levorg. While many others have successfully turbocharged/supercharged or do an engine swap with the BRZ/86 pair, these guys might be the first one few to fit a boosted Subaru engine in it.
With the engine outputting 295bhp and 400Nm in original form, we are sure the BRZ would feel like a totally different car now. Those who enjoy drifting should definitely find it much easier to get the tail out judging from our encounter with the engine in a lesser state of tune in the WRX.
Watch the clip below to and notice how easy it is to get the wheels to spin!