Watch two Bugatti Veyrons convoy at ultra high speeds on the autobahn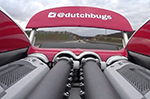 Watch the two hypercars convoy at high speeds on a German autobahn at speeds of more than 320km/h and marvel at the Veryon's rear wing working as a airbrake. Pretty mesmering, we think...
According to the video, the car with the camera is a normal Veyron 16.4 and is fitted with a custom Mansory exhaust while the other one is a Bugatti Veyron 16.4 Super Sport World Record Edition. Only 5 of these Super Sport editions roam the world.