Toyota shows us another cheeky ad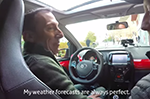 Toyota shows us another funny ad with its Aygo. This time around, it tries to challenge three weather forecasters from Italy, Belgium and Spain as it reckons these presenters aren't doing their job well. In other words, these people are not predicting the weather correctly and Toyota wants to 'rectify' the problem.
To do so, Toyota presented Paulo Corozzan, Tatiana Silva and Roberto Brasero with an Aygo each for a whole month and lets them know that the Aygo they have, comes with a 'forecast-activated Canvas Roof'. Watch the video below to find our what it means and have a good laugh!