Weird vehicles you never thought you would see on the track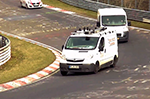 On open track days at the famed Nurburgring Nordschleife, almost anything that is road legal can do a lap of it. So what's the weirdest vehicle seen there?
Watch the video below and see people go around the track in coaches, vans and other slow vehicles. I wonder why do people even bother to bring a coach to a track day. I mean, is it even fun to track a bus?