This driver needs to go back to school to learn parking again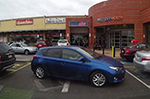 Here's a little video to have a little chuckle with on a weekend. Watch this driver make parking look as difficult as climbing Mount Everest. Shot in Victoria, Australia, we didn't know the Toyota corolla hatch is that hard a car to park.
Check out the video and see whether she managed to make it into the lot in end. Or not!