Suicide Squad Jokermobile spied with Dark Knight ride along
Entry posted by Deeq ·
1,489 views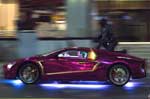 Warner Bros. Pictures and DC Comics are well underway in the filming of Batman spinoff, Suicide Squad. The Dark Knight himself is going to play a role in the film, but the headliners this time are the bad guys. And, just as we've dreamt of Batmobiles since Bruce Wayne has been building them, the new group of anti-heroes comes correct with radical wheels.
https://www.youtube.com/watch?v=wQVZrGzG4z0
The highlight is the chromed, purple and gold Jokermobile, on which Batman himself is ominously perched. It's still unclear if the man under the hood is Ben Affleck, a stuntman, or someone else entirely.
The car is said to be a product of kit-maker Vaydor, though we can't verify that. We can say that the brakes look powerful, and that purple ground-effect lighting isn't really impressive.
Leigh also grabbed a few environmental shots from the set; enough to say that carnage should be laid on pretty thick by the time the final edit has been cut. We'd expect nothing less.