Koenigsegg One:1 does practice record run handsfree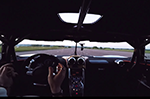 During a practice session at Koenigsegg's test track, their One:1 set a new record of the 0-300-0km/h time in 17.95 seconds, a full 3.24 seconds faster than the time of the Agera R did back in 2011 (21.19 seconds) which gave Koenigsegg the Guiness World Record for a production car.
Also set on this practice run, the standard VBOX data recorder clocked the One:1 doing a mind-blowing 0-300km/h in 11.922 seconds and 300-0km/h in 6.032 seconds. As a comparison, a brand new Toyota Vios would only hit 100km/h in the same time the One:1 needs to hit 300km/h.
Furthermore, Koenigsegg says that this is an unofficial time and the car used for this run is actually 50kg heavier than the cars destined for customers because of the roll cage fitted.
What is most amazing is the fact that the company's test driver, Robert Serwanski, demonstrated the record run without even having his hands on the steering wheel!