Mercedes Unimog poised for Canadian return
Entry posted by Deeq ·
1,581 views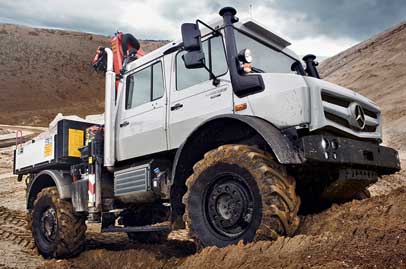 The Mercedes-Benz Unimog, the super-duper heavy-duty off-road workhorse vehicle that the German automaker has been making for more than 60 years, may soon be sold in Canada once again after a hiatus.
Regulators had taken issue with both their emissions (super torquey diesel engines don't tend to run real clean) and the fact that some folks would take them out on city streets and even highways (these beasts have a top speed of about 25 miles per hour). Now, regulatory officials are considering allowing the Unimog to be sold in Canada again, albeit under strictly off-road driving regulations, Canada's Driving says.
In fact, the diesel trucks apparently run a lot cleaner than they used to, while the torque levels remain off the charts. Naturally, some folks are clamoring for them because of their ability to run on just about any terrain.
Hans Mross of Vancouver-based Mross Import Service Ltd., which previously imported the Unimog to Canada, told Autoblog he was "99 percent sure" the Unimog would be brought back to Canada. We'd last reported on the Unimog in April 2013, when Mercedes-Benz said it would start selling 10 different versions of the truck.