All-new Toyota Sienta revealed in Japan
The all-new Toyota Sienta, which is still a compact MPV, gains a striking new design. Featuring a gaping front grille as well as front and rear bumper garnishes that connect the lights, the Toyota Sienta is available in eight different body colours, including the new 'Air Yellow' pictured here.
To Jazz up the car even more, owners can choose from five optional extra Flex Tones, which allow owners to combine the body colour with contrasting accents on the front grille, mirror caps and bumpers.
Said to offer up to three rows of seats, car has seats that are not unlike a movie theatre where the row of seat gets higher as you towards the rear. The car can also be had in a six and five-seater arrangement too. The five seater version is likely to be catered for those who use a wheelchair.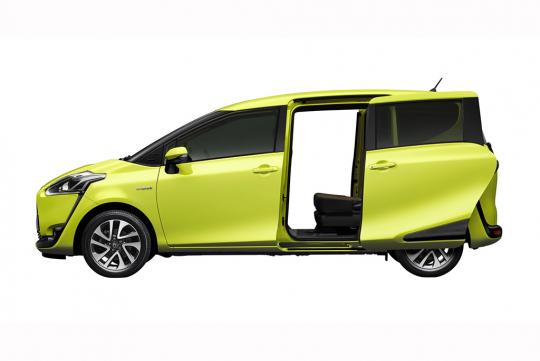 Two engine options are available at launch: a 73bhp 1.5-litre hybrid and a 108bhp 1.5-litre petrol unit which utilises the Atkinson Cycle combustion process. This advance engine also features Cooled EGR (Exhaust Gas Recirculation) and VVT-iE (Variable Valve Timing-intelligent by Electric motor). The hybrid returns 27.2 km/L under the Japan's JC08 test cycle, while the petrol only Sienta returns 20.6 km/L in 2WD configuration.