The Brits sure know how to spec their Mustang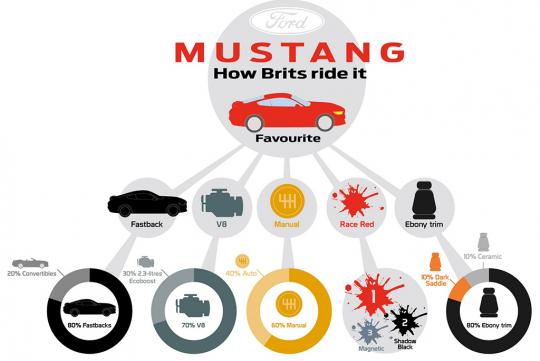 According to carscoops, Ford's British customers have ordered almost 2,000 Ford Mustangs since January as the first right-hand drive units have begun production at Flat Rock Assembly Plant in Michigan.
Interestingly some facts of what the brits have ordered have surfaced and we are glad to report most of the Mustang are specced the way most car enthusiast would like them to be specced in.
Of the 2,000 orders placed so far, 80 percent have been for the fastback body style over the convertible and 70 percent have specified the 410bhp 5.0-litre V8 engine over the more economical 313bhp 2.3-litre EcoBoost engine. We are also happy to see more than half of customers (55 percent) choosing the six-speed manual transmission over the six-speed automatic.
Lastly, red seems to be the favourite choice of body colour with silver and black a joint second place. No prize for guessing black as the favourite colour for the interior, with it making up more than 75 percent of orders.