Woman jumps out of moving car and lets car roll off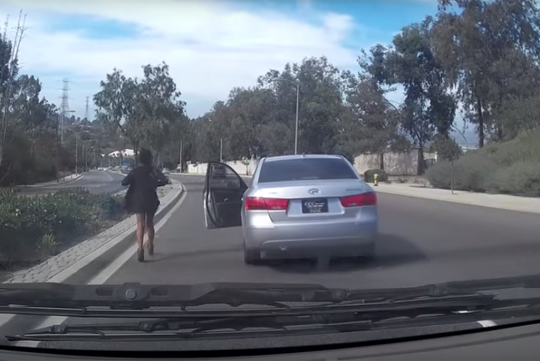 Shot in Orange County, CA, this extremely bizarre in car footage shows a woman driving a Hyundai Sonata before jumping out of her car with the car still in motion. With the car's transmission probably still in 'Drive', the lady calmly walks away as if nothing dangerous is going to happen! The car then proceeds to go across into the oncoming traffic and crashing into two other cars before being stopped by a tree.
Thankfully, the runaway Hyundai that bumped into the two SUVs looked like they didn't suffer significant mechanical damage.
No details have been given on why she did that but rumours on the net suggests that she might have been high on drugs or she simply had enough of driving!
https://www.youtube.com/watch?v=luFgV4nuSxc