Renault Megane RS driver survives horrific crash on the Nurburgring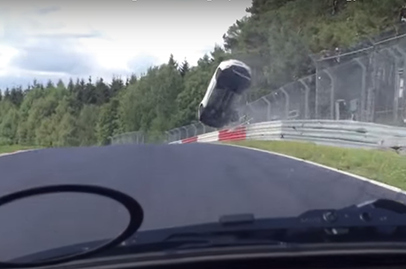 The Nürburgring Nordschleife is called the Green Hell for a darn good reason and we are glad this Megane RS driver survived its horrific accident!
Spotted on the web, the following video shows one of the worst accidents we have ever came across in the recent years. Shot from a dashcam of a Nissan 200SX coupe, a Renault Megane RS was seen overtaking the Nissan 'in excess of 190km/h' when it lost control of it.
Considering how bad the impact was, we are extremely glad and surprised to see the driver get out of his car on his two own feet. According to the owner of the video, the driver only suffered from minor bruises and cuts and was fine otherwise.
https://www.youtube.com/watch?t=40&v=tW3vOTB_gCg
Warning: the video contains explicit language