Max Verstappen drives up ski slopes in Red Bull Formula One Car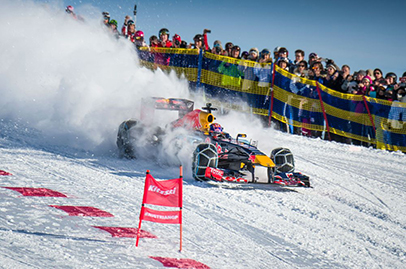 Scuderia Toro Rosso driver Max Verstappen performed an unique F1 show run at Kitzbühel ski resort as the the resort is revving up for the famous Hahnenkammrennen World Cup Alpine ski races.
Using a 2011 RB7 racer equipped with a set of custom studded tires and snow chains, the Formula 1 car managed to climb the slippery slope. Other than the special tyres, the engineers also reprogrammed the car's throttle response and engine maps to give Verstappen more control over the championship-winning car while speeding the car up and then back down the slope.
https://www.youtube.com/watch?v=UYOrlcW2LBw&list=PLD7_Y5JkrKgDiYnhA8G-VY75pGvR8Cmo7&index=6