The new 2016 Mercedes C-class Cabriolet revealed
Entry posted by Deeq ·
3,718 views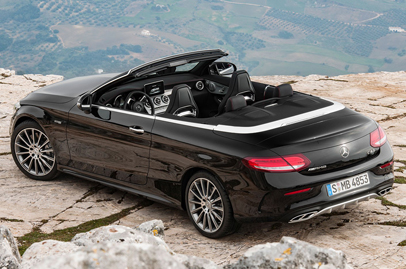 The new four-seater convertible, which is based on the C-class Coupe, gets its official unveil at the 2016 Geneva motor show this week.
The new C-class Cabriolet keeps it under canvas with a fabric roof rather than a folding metal hardtop. This saves weight, which is good for efficiency, and it can fold away into a more compact space, which is good for luggage volume.
Roof down, a swooping rear deck covers the convertible top and shows off the C-class Coupe-influenced rear end; note the way the number plate recess is in the bumper, not the boot lid - a cue Mercedes reserves for its sexier models. Rollover protection is taken care of by pyrotechnic cartridges, which fire from behind the seats should the worst happen.
The electric motor-driven roof opens and closes in a little less than 20 seconds, and can do so while the car's driving at more than 30mph. A black roof is standard but, depending on market, brown, blue and red are also available.
An electric draught stopper behind the rear seats raises via the press of a button, and can be substituted for a larger, manual folding draught stop as an option. Also available is 'AirScarf' neck heating, so you can pose all year round.
Mercedes has chosen to stir a little more excitement in the new convertible C-class range by launching with a performance model, the Mercedes-AMG C43 Cabriolet with all-wheel drive and a 362bhp, 380lb ft 3.0-litre V6 turbo engine. It'll sprint from 0-100km/h in 4.8sec and has a top speed electronically limited to 250km/h.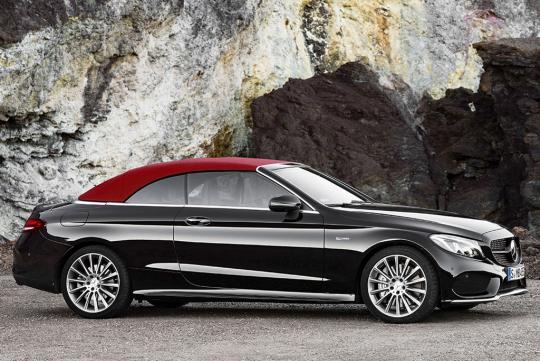 Just like the new AMG C43 Coupe, which is also making its debut at the 2016 Geneva show, the Cabrio gets a nine-speed automatic transmission, rear-biased '4Matic' all-wheel drive and the same steering setup and dampers as the V8-powered AMG C63. It also gets a more aggressive bodykit and wheels, and lots of red stitching inside.
The current steel and aluminium C-class platform was designed to be decapitated right from the start, so it's stiff enough to handle plenty of power. Like the C-class Coupe, it features plenty of aluminium, with the wings, bonnet and bootlid all made from alloy.
There's a useful 360 litres of boot space, or 285 litres with the roof down, and the rear seat backs fold down 50:50.
Like the Coupe the suspension's a little lower than the saloon, by 15mm. Also helping the Cabrio look a little sportier, wheel size kicks off from 17 inches upwards.
Steel springs are standard, a firmer 'sports' springs and dampers are an option for speed merchants, or 'Airmatic' air suspension for comfort-seekers.
As per the C-class saloon and coupe, there's plenty of tech on board. An autonomous emergency braking system, which can function at autobahn-friendly speeds of up to 200km/h, lane-keeping steering (and braking) assist, parking assist and a 360 degree camera system.
It is unclear when or if this model arrives on our shores. So do stay tuned...